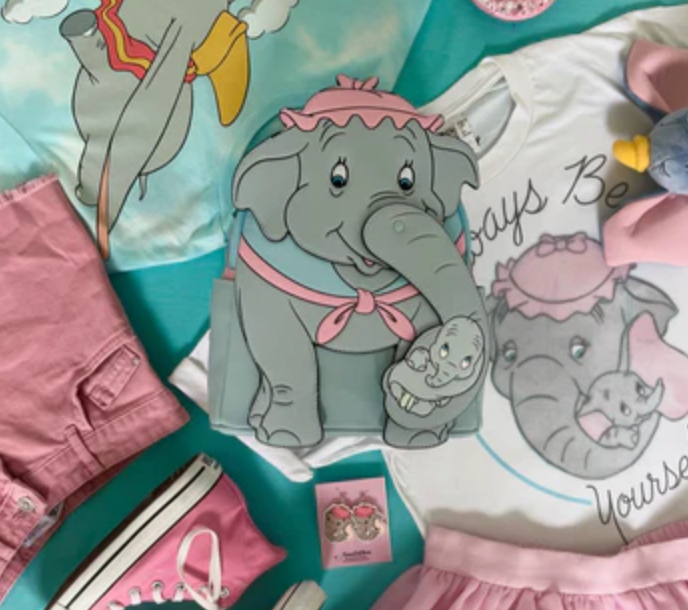 Always Be Yourself!
How adorable is the new Loungefly Jumbo mini-backpack from LF Lovers? Did you know the trunk moves (my heart <3 )? If that's not cute, then I don't know what is. My favourite thing about this mini-backpack is how she makes the cutest addition to any girly outfit especially if you love the colour pink or baby blue. 
She can easily be paired with a simple Dumbo tee or sweater if you have Dumbo merch. If you don't have any Dumbo merch I'd pick an outfit that ties in with the grey, pink or baby blue. For the parks I think I'd be more likely to wear her with a pink dress or plain grey/white attire as an inspired Jumbo bound with pink Mickey/Minnie ears to symbolise her little hat. Disney bounding is an easy way to take inspiration from your favourite movie or character using every day pieces. You can just utilise the colours of the character or the patterns of their clothes for inspiration. For example, for Jumbo you could wear a grey dress with a blue cardigan and a pink hat/Disney ears. It can be very subtle but still very effective.
If you're a big fan of the movie Dumbo, especially the animated film you may have some Dumbo related merchandise to pair with Jumbo. I have found due to the basic colours that she matched anything of Dumbo I had. If you want a cheap matching outfit to the backpack I do recommend Amazon fashion – you can get adorable Dumbo tee's for less than £20. I found the one of Jumbo to match perfectly with the backpack!
Thank you so much to the amazing LF Lovers for sending me the cutest Loungefly mini-backpack. I can't wait to use her on future trips. If you like a touch of Disney into your normal day then definitely check out the Loungefly bags available – so many to pick from including cosplay designs to more subtly themed crossbody bags!
-Jen 
IG @magicwithjen