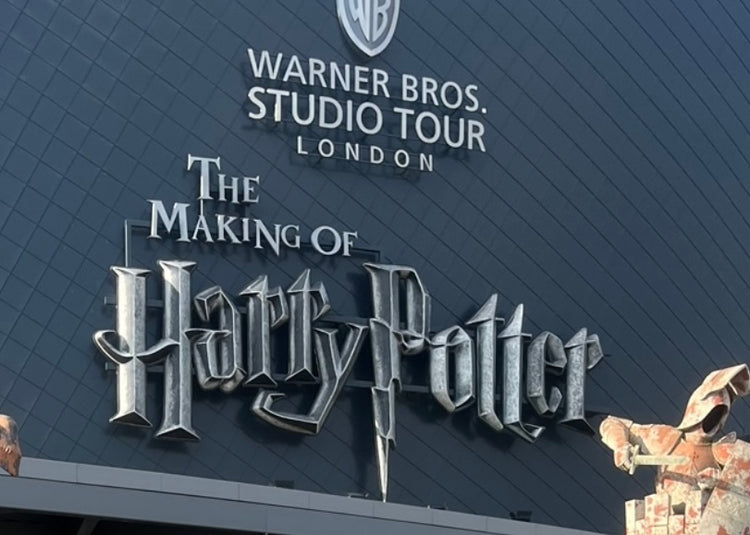 Back to Hogwarts - A Magical Tour
All Aboard Hogwarts Express! 🚂
Today is Back to Hogwarts and thousands of muggles/wizards are gathered at Kings Cross station, wands ready to celebrate the day that Harry, Hermione, Ron and the rest of the gang would start their next school year. Although I can't be there, I did manage a trip to the Warner Bros Studio Tour just last weekend! 
Of course, the first thing I had to work out was what would I wear and what Loungefly would I take with me. Its one of the reasons I collect Loungefly (and Funkos too if Im being honest!) so that I can show my love for a fandom on a daily basis but also it gives me a great feeling that I can accessorise for different events. 
Luckily, I was taking my two children as well - our love of all things magical has created a special bond that I treasure. So when they insisted on wearing House Robes, who was I to refuse? I did have an ulterior motive though, they were to bring a Loungefly each from my Harry Potter collection! Why only choose one, when I can take three? 😆 
The top three are my overall favourites and I really struggled with which one to choose especially now that there is a Forbidden Forest section at the studios. BUT Universe (far left) was the most expensive, very rare and took me over two years to obtain so that was a no! I decided on using my most recent purchase, the LF Lovers Wands Exclusive, whilst my daughters took Cedric Diggory for Team Hufflepuff and the other took Hogwarts Express.
Although I had been to the studios before, it was several years ago and there has been a few things added that did make the trip worthwhile. There was the film sets from previous like Dumbledores Office (although the Memories Cabinet was a new addition to this), Diagon Alley, Ministry of Magic Floo Powder entrances, Number 4 Pivet Drive and much more! The newest additions were Umbridges Office, scaled down verision of The Burrow and my favourite addition was Gringotts Wizarding Bank. The set is exactly as it was in the film and even has the additions of the replicas of the Goblins at their desks including the Head Teller! It was breath taking. 
 Even though the dragon is a projection, it was so well done, it looked real as the dragon came closer and closer into the bank! He even breathed fire! This is definitely not to be missed! 
The second addition that impressed me, was Professor Sprout's Greenhouse where you can actually pull out a mandrake! There is plenty of space to walk through and even some active Mandrakes can be seen squirming to be free and making that famous screeching noise we all know 🙉 My daughter certainly loved playing up to that!
There are plenty of photo opportunities from the sets to the props like Hadgrid motorcycle and side car and the atmosphere of wonder is incredible! The replica Hogwarts Castle never fails to leave me speechless, it was one of the few moments were my daughters were silent as they walked round it, staring in wonder.
As an avid Harry Potter fan, there is so much to do (and merchandise to buy!) it doesn't fail to disappoint so if you haven't been before, I highly recommend it! 
Of course, don't forget to take a Loungefly with you, whether its to add to your costume or just to carry a little of Harry Potter around with you, they are great ways to show off your favourite fandoms! 
-Kez
IG - @loungeflyfanatickez