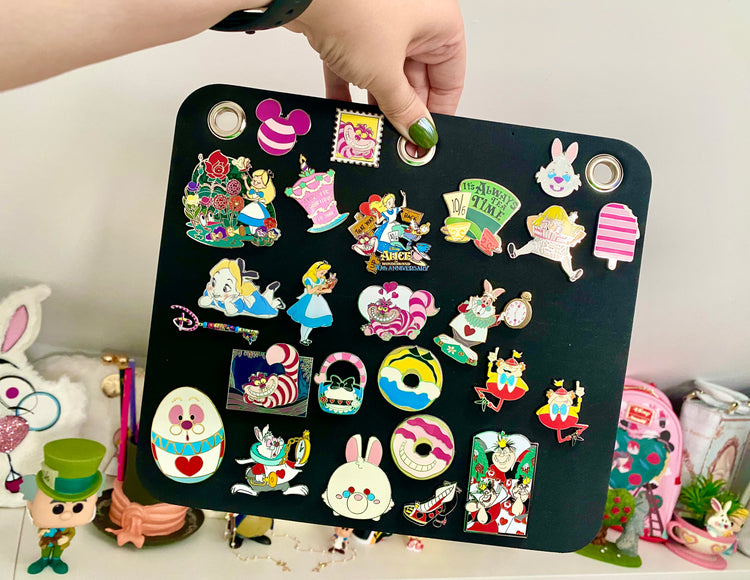 Bags, Pins or Both!
Most collectors will relate to this and nod their heads along with the fact that although it's never their intention but having just one collection is never enough, you quickly find another one to start - and for me it was pins! My transition from to a pin collector was very seamless and started when I saw the Pop Funko Loungefly Mickey Mouse Pin Collector backpack. I mean - what an amazing collision of two things I love!
However, unlike this backpack, pins have been around for centuries, with the modern pin-collecting craze beginning in the early 1990s (another great reason to be a 90's kid! Since then pins have become one of the most popular collectibles around and for good reason too! Pins are a fun and inexpensive way to enjoy your favourite fandoms.
They can be found in a variety of sizes, shapes, and styles, with something to suit any collector's tastes. Whether you're a fan of a particular Disney movie, park rides or anything else, you can find pins to match. What's more is just like with your Loungefly backpacks, pins can be used to show off your interests, passions, and affiliations. 
My first Disney pins I ever purchased was during my visit to Disneyland Paris. As a keen Alice in Wonderland fan, I came home with 3 Wonderland pins but this has since turned into my largest collection of pins. 
No matter what kind of pins you choose to collect, you'll find that the hobby can be very fun and rewarding. Not only can you show off your collections, but you can also make friends with other collectors, partake in pin trades at the parks and even start making your own fandom pins to share or sell within the Disney community. 
I love that you can also find a variety of pin display bags online, but what's more exciting is that recently I've noticed there is a wider range of pin display bags made by Loungefly. My latest addition is an exclusive monthly release which I'm using to feature my Mickey and the gang pins, which also includes some family magic, I guess you could even call it a Disney family heirloom! So my dad went to Disney World, Florida, when he was younger and brought back the Mickey numberplate plaque. Last year Disney released that very same plaque as - you guessed it - as a pin! The Walt Disney World Mickey and Friends 50th Anniversary Licence Plate Pin is now one of my favourites in my collection. 
So, if you're looking for a new hobby, consider collecting pins. You can start off small with a few pins but be warned - you'll be left wanting more! So, what are you waiting for? Start your pin collection today!
-Emma
IG @imaginedisneyemma