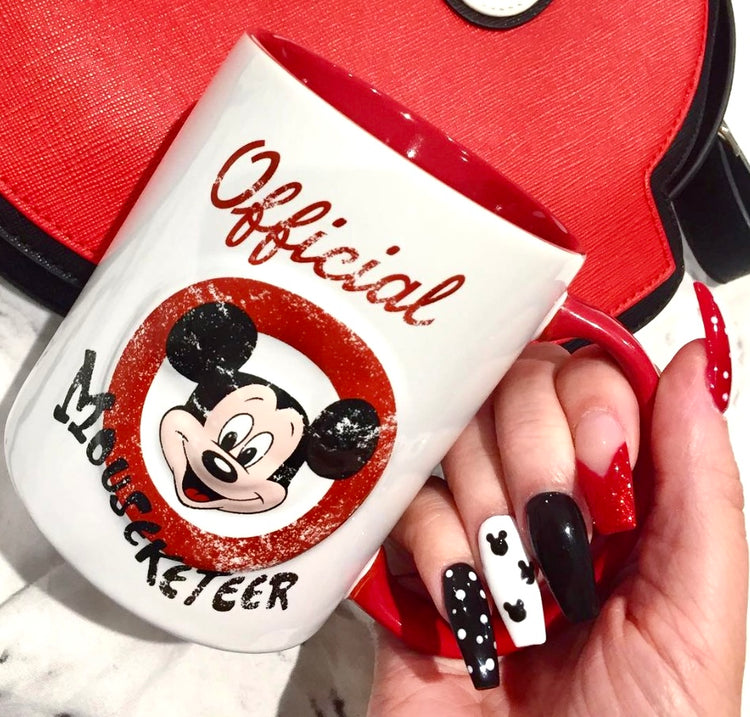 Disney at your fingertips!
Whether they're almond, square, stiletto shaped or long, medium length or short, you've found your inspiration. You may even have that magical holiday countdown at single digits too! 
What am I talking about; nails of course! Because it doesn't have to stop at a manicure. 
Our nails are an extension of our personalities and  a great way to express ourselves and our love (some could say obsessions 😬 ) for the magical world of Disney. 

So you may choose to go for a red, yellow and black gel polish with an accent Mickey silhouette on the ring finger. Just like I did here to match this Mickey Mouse shorts Loungefly cross-body bag. What a way to honour my first ever Loungefly!
Or maybe you prefer to go to the extreme with longer nail extensions and acrylics to really open up that canvas for you or a nail technician to work some extra Disney magic on your nails and theme a nail art design on your favourite movie, character or the current season. 
Let's throwback to autumn when I wanted my nails to match with my spookiest backpack in my collect, the glossy and ghostly Nightmare Before Christmas mini Loungefly backpack. 
.
Disney nail art is also a great conversation starter; bear with me here and let me set the scene. 
Close your eyes and imagine: You're hopping around the Disney park, wriggling your Disney nails with excitement as you bounce up to a ride. You're standing in a queue with the expected wait time of 60mins. You grabbed something out of your Loungefly backpack and the person behind you notices a flash of colour and says "wow I love your nails!". You both happily proceed to tell each other (sometimes with photo too) about all the other Disney designs you've had before, what your favourite Disney movie is and how many Loungefly bags you own.
 In that moment you've forgotten about the wait time for Peter Pans Flight because you've now found a connection with someone new to pass the time. Because no one likes waiting, right?!
This is the magic of Disney. But Oh- it doesn't stop there. The same goes for when you're in Primark buying all the Disney pyjamas you can carry and you're paying at the till, when the staff member gets their first glimpse of your hands and kindly tells you "I like your nails!". You smile as you thank them for their appreciation and you go about your normal day. Although the difference this time is that you've not got a park trip booked or a Disney themed event to attend. This is different because you've chosen this particular Disney design just for you! For that at home - at the gym - typing on the computer in the office - everyday you. 
Currently hands are advertising a more floral side of mine, therefore the daily Loungefly backpack I reach for is this lucky competition winner, the Alice in Wonderland floral stitch detail. 
You'll get a compliments here and there so you'll hold your hands up proudly to give the nails the appropriate accolade that they deserve. But at the end of the day all of that is really just a bonus because what matters the most and is the whole reason you've had your nails done; is for you to see them. It's the Disney nail art design that you chose to enjoy yourself!
So from the Disney parks their self, with their magical character meet and greets, to the amazing colour palates features on ride themes or even just a simple purple wall, inspiration is all around you. Why you could even be sat in your own home right now starting at all of the Disney treasures you've collected over the years, the figurines, the Mickey ears and of course your Loungefly Collection. 
Why don't you next theme your nails to match your favourite Loungefly bag in your own collection? Or plan what nails you will have for the bag that is currently 'on its way' 😆

- Emma 💅🏼
IG @imaginedisneyemma