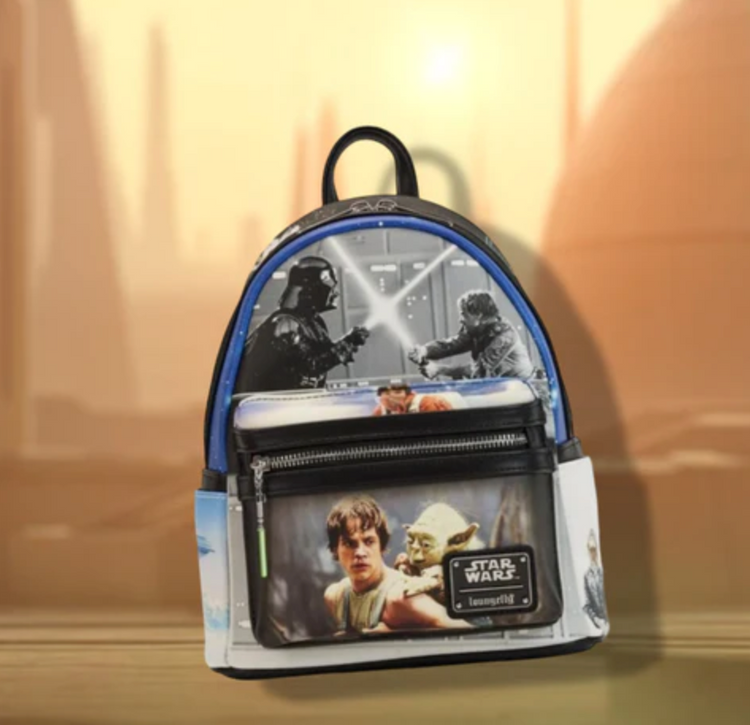 For the Love of Star Wars
With the upcoming Star Wars Celebration Convention coming up this weekend, Ive been thinking about Star Wars and why I collect Star Wars Loungefly. Star Wars has a special place in my heart! The adventure, fun and the characters everything is out of this world! Not only is Star Wars entertaining, it is a massive escape, a world that I get lost in. The first Star Wars film I watched was The Empire Strikes Back, with my brother when we were only seven and eight, We were sat on our big cosy couch, wrapped in our dressing gowns, as we became more and more enthralled in the action that was unfolding on the television! That's when my love for star_wars began.
Although The Empire Strikes Back was the first Star Wars film I watched, my heart belongs to Return of the Jedi! Return of the Jedi in my favourite for lots of reasons but the main ones being the loveable character Max Rebo, Admiral Ackbar saying the iconic line "it's a trap" and Darth Vader/ Anakin saving Luke!
Return of the Jedi is a rollercoaster of emotions! From all of the films, my favourite overall scene is from Revenge of the Sith, Obi Wan versus Anakin!! This scene is my favourite because we have the story of Master and Padawan that grows into a brotherhood. Obi wan losing his friend to the dark side and Anakin losing trust in Obi Wan. This scene is one of the most heartbreaking yet exhilarating moments to watch!
Soo with that I'm gonna share my top 3 Star Wars Loungefly to blow you out of this galaxy!!
Number 3
This has to be this Empire Strikes Back Final Frames Mini Backpack (pictured above). There is a whole series of these Star Wars Final Frame Scene bags but as my favourite film, this one is top for me! From the front to the back and even the side pockets, there are prints of iconic moments from the film. 
.
Of all of the scenes on this, my favourite is above the pocket of Darth Vader and Luke Skywalker. Even a non-Star Wars fan would recognise this immediately. Personally, I'm on the Light Side and the special touch of the zipper charm as a light sabre is a great addition.
.
Whether 
you are on the dark side or light this Loungefly is ideal for any Star Wars fan! 
Number 2
Although most of my Star Wars Loungefly are scene bags, I do have a soft spot for this BB8 Cosplay. Its so adorable!  BB-8 is such a loveable droid and so under-rated! I'm sure any Star Wars fan would agree that this bag brings him to life perfectly!  It even has the the report alliance badge on the side placed perfectly!! Little details like this is why I love Loungefly designs.
.
Number 1
And its not a Mini Backpack! What can I say except this wallet is incredible!! Loungefly didn't change the scene or alter any of it, being such an iconic scene, it simply speaks for itself. I remember watching this moment, when Luke Skywalker is watching the sunset on Tatooine! The moment is captured perfectly on this wallet and I love that I can carry this legendary cinematic masterpiece with me every day!!! Cleverly Loungefly have put his twin sister Princess Leia on the reverse. 
Definitely a number one for me! 
.
.
Hope you enjoyed my top 3 Star Wars Loungeflys and…. May The Force Be With You!! 
- Kerri
IG @kerri_disney