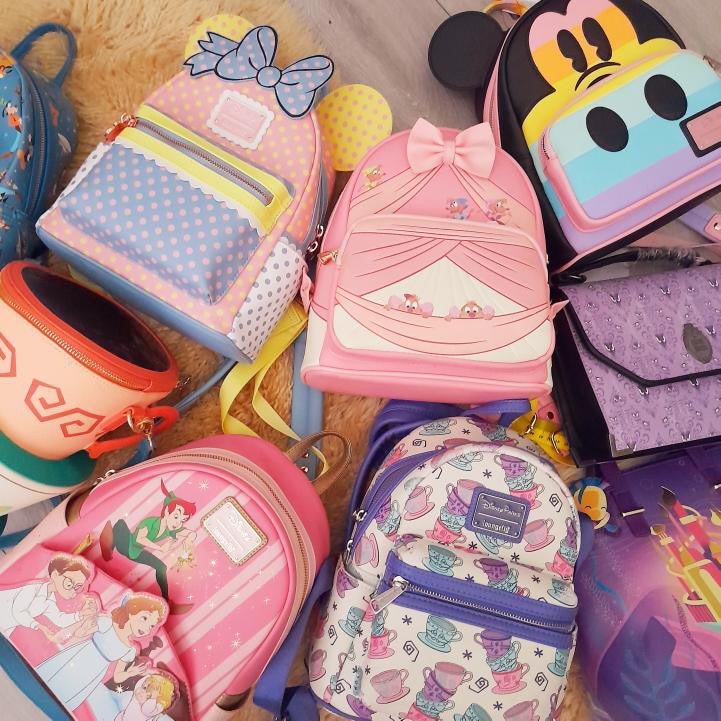 I Spy Loungefly
The Loungefly is a Club -an exclusive club where you exchange a knowing nod in a shopping centre or an appreciative smile. Where people randomly stop you in a petrol station to compliment your bag. From young children to grandparents they all share a zest for life with a love of fun and Loungefly.
.
.
.
I have to confess that in 2019, on my 4 week trip to Orlando I didn't take or buy any Loungefly bags! Shocking I know! In actual fact I hadn't heard of Loungefly back then. As my Disney Instagram account grew , I found myself immersed in this magical community, a whole new world was opened up. Now, as an avid collector with over 50 bags, I couldn't contemplate a park visit without one of these iconic bags on my back. 
.
My very recent Disneyland Paris trip was a delight and my family shouted 'Loungefly!' whenever they spotted a mini backpack in its rightful 'home.' It's the best game of ' I spy'!
.
Bag choice is a BIG deal! Some people choose their fandom and stick to that ie Star Wars or Rapunzel. Its important to keep your eyes on the new releases too ad there's always something new and exciting. 
.
.
My first Loungefly was the Fantasia Mickey which I love and still have. It features bold and iconic Mickey working his magic. Subsequent additions to my collection were all over prints but more recently I have added cosplay too including  Pluto and Grumpy, I always get lots of compliments when Ive worn them. 
For my most recent Disney trip, I chose to take the pink Peter Pan 40th Anniversary bag, which I thought would compliment my pink coat and blend with the pastel aesthetic of Disney at Springtime. 
.
.
Loungefly bags are limited in numbers and some sell out really quickly and become sought after. I was really tempted to buy the 30th Disneyland Paris sequin bag which had a surprising restock when I was there. 
.
A Loungefly bag can be the starting point for an outfit or a finishing touch. One guarantee however is  you'll never want just one. 
.
Happy collecting and welcome to 'the club.'
Amanda 
.
@disneymadmum