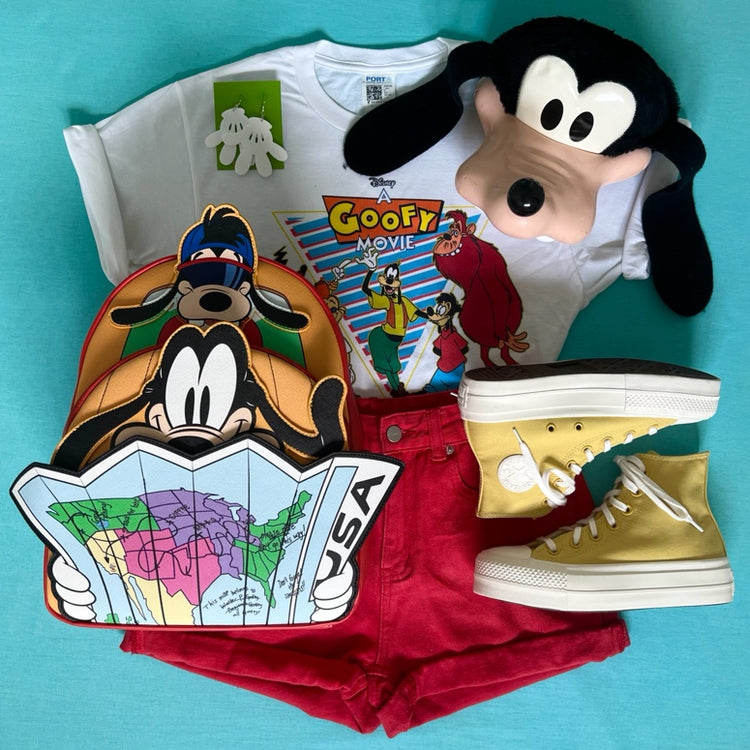 Lets Get Goofy!
"You're my son, Max. No matter how big ya get, you'll always be my son."
If you want 90's nostalgia then look no further than the new Loungefly 'A Goofy Movie' mini backpack although this backpack doesn't appear as 'mini' as the others. The bold design of Goofy and Max reading a map together while on their father-son bonding road trip is adorable, especially with that essential road trip staple; a tin of soup as the zipper! This is definitely a fun backpack and its perfect for a park day! Like the movie, the backpack is suited for kids and adults alike.
I'm glad that Goofy and Max are starting to gain some interest when it comes to merchandise. For a nostalgic movie from the 90s it definitely requires more merchandise for the parks. Goofy and Max are becoming really popular as meet and greets in the parks. I have seen them regularly at Disneyland Paris, Disney Cruise Line and Max is starting to pop up more frequently at Walt Disney World!
When looking for things to match with this backpack; pick out the main colours of the bag; blue, yellow, black, red and green. You don't have to have matching merchandise as the backpack is definitely a statement piece on its own. Merchandise for 'A Goofy Movie' is quite hard to come by. I have found some t-shirts online if you did want a matching tee, for example, Amazon UK, Etsy, Shop Disney UK and Loungefly apparel. If you're into vintage finds there are some cute much cheaper tees going on Vinted and Ebay.
Set out on the open road, be adventurous and find what works for you! 
-Jen 
IG @magicwithjen