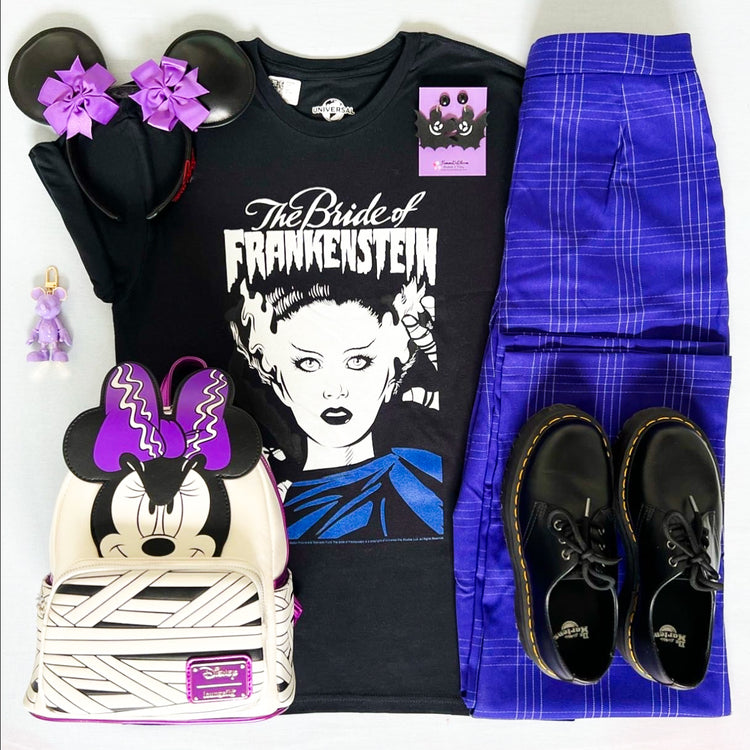 Minnie Mouse Strikes a Bolt Through Our Hearts!
She's Alive…!!!
This Disney Loungefly Mini Backpack of the Bride of Frankenstein is boooo-tiful addition to any Halloween bag collection. The details include the iconic lightning streaks featured on Minnie's bow and a lightning bolt zipper charm and not to mention the pearlescent shimmer faux leather exterior and metallic purple trim and padded straps. She even glows in the dark! 
Halloween is by far my favourite season, especially at the parks. No time of year beats the parades, events, characters, snacks and merch all with a hint of spooky. Its also an excuse to wear ALL black at Disney and just have a spooky bag!  
When creating flatlays it was hard not to utilise the three main colours – purple, black and white. The black and white really make the purple POP. Purple isn't really a colour many people have in their wardrobe and in all honesty, I don't have a lot of it either. A plain white or black tee/sweater with a purple skirt or shorts/trousers will work wonderfull A plain black outfit with touches of purple works just as well for spooky season. Touches of purple could include a bag charm, Minnie/Mickey ears/bow, nail vanish, shoes, socks etc. 
Who says you have to stick to Disney merch when creating an outfit or looking for inspo. Horror tees or Frankenstein memorabilia isn't hard to find especially if you look on sites such as Amazon. I find this bag matched really well with Doc Martens or chunky boots or even some converse depending on how you want to style it.
You could even wear an over-sized Frankenstein tee with black or purple cycling shorts. You could also wear a white dress and 'bound' as Minnie the bride of Frankenstein. There is SO many choices for styling Frankenstein Minnie and you will have lots of frightful fun at the same time! 
-Jen 
IG @magicwithjen